Windows 11 setup warns that you aren't "entitled" to updates on unsupported PCs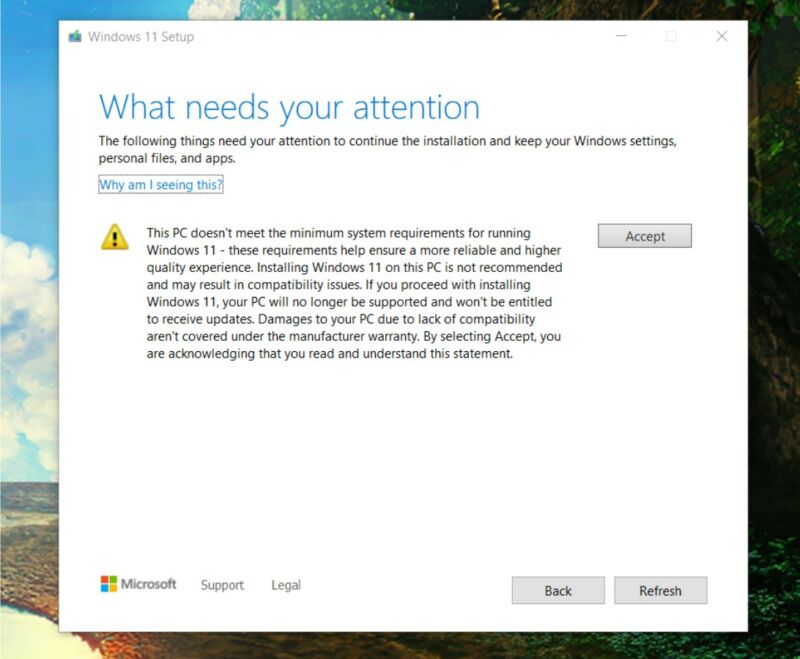 Officially, running Windows 11 will require a newer PC that meets all of the operating system's performance and security requirements. Unofficially, running Windows 11 without meeting those requirements will be possible, but we still don't know much about the details—how difficult it will be to install Windows 11 on those machines, how frequently they will remind you that you're running on unsupported hardware, and even whether they'll receive normal Windows security updates.
The Verge has spotted an apparently new warning message in the Windows 11 Setup app that explicitly warns users of the dangers of installing Windows 11 on unsupported hardware—you may run into "compatibility issues," your PC "won't be entitled to receive updates," and that "damages to your PC due to lack of compatibility aren't covered under the manufacturer warranty." This is all stuff that we've heard from Microsoft before, but it's the first time that this policy has appeared during the Windows 11 setup process rather than in media reports. Once you click through this foreboding warning message, the Windows 11 installation is apparently allowed to proceed.
I've tried and failed to recreate this screen on multiple unsupported Windows 10 systems of different vintages, both with builds downloaded through the Insider program and installs directly from a manually-downloaded Windows 11 ISO file. I also haven't seen any firsthand reports of it outside of the Verge report. This doesn't mean it isn't happening—Microsoft is always rolling out different updates to different groups of people at different times—just that I can only speculate as to when you will actually see this message and what it means.
This post has been read 19 times!