Windows 11: Leaked Snapdragon 8cx Gen 3 fails to beat Apple M1
Qualcomm is apparently working on a successor to the Snapdragon 8cx lineup. The processor is codenamed "SC8280" and it is expected to replace Qualcomm's traditional efficiency plus performance core combination with 'Gold' and 'Gold+' cores for better performance, but this could limit the overall battery life.
Ahead of the launch, Qualcomm's unreleased Windows 11 on ARM chip has appeared in a new benchmark leak. An engineering sample of Lenovo QRD with Snapdragon 8cx new variant has been spotted on GeekBench and it shows some progress in overall performance.
It's worth pointing out that the GeekBench v5 listing is for Lenovo QRD, but it apparently has references to Snapdragon 8cx Gen 3 as well as Windows 11. In this case, it's possible that QRD refers to the "Qualcomm Reference Device" which are test units that Qualcomm sells to its partners like Lenovo and Asus.
A "Qualcomm Reference Device" allows companies like Lenovo to develop their own products for the new platform. As per the GeekBench listing, Qualcomm's identifier is ARMv8 (64-bit) Family 8 Model D4B and it does not match any other chipsets available in the market for Windows on ARM.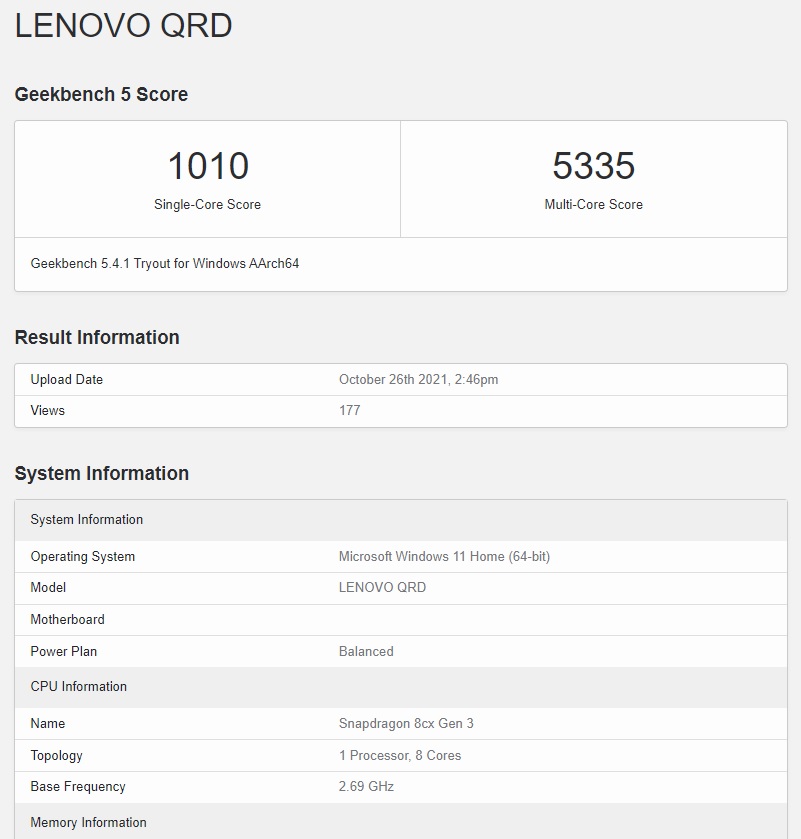 It's safe to assume that Snapdragon 8cx Gen 3 is a new product and successor, and it is possible that benchmarked "Qualcomm Reference Device" uses the long-rumoured Gold+ core, which was first discovered in early 2021. Additionally, tests were performed on a test unit running Windows 11 Home with the default "balanced" power state.
According to the benchmark, Qualcomm's next-gen processor is going to have a base clock speed of at least 2.69Ghz. The spike in the base speed could be due to Qualcomm's new 'Gold+' cores, which offers better performance at the expense of battery life.
This new processor has better single-core and multi-core performance than the Snapdragon 8cx, but it fails to beat Apple M1's performance in the benchmark.
Snapdragon 8cx Gen 3 is definitely closer to the Apple M1, especially when we consider the fact that this is an engineering sample/prototype from Lenovo and it was tested with Windows 11 Home in a balance power state.
The post Windows 11: Leaked Snapdragon 8cx Gen 3 fails to beat Apple M1 appeared first on Windows Latest
This post has been read 17 times!