Western Digital announces 26TB hard drives and 15TB server SSDs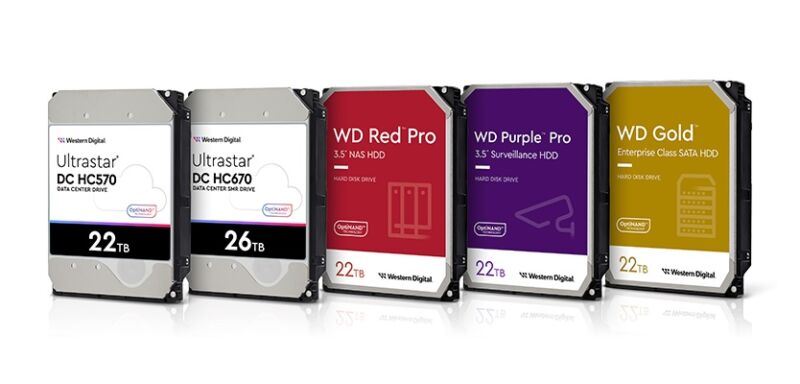 Western Digital announced a raft of new products yesterday aimed at both regular consumer PCs and big businesses with storage-hungry servers. The headliners are two new hard drives with huge capacities—one 26TB and one 22TB—as well as high-capacity SSDs for servers, internal and external performance-focused WD Black SSDs, and midrange PCIe 4.0 SSDs that could end up in your next prebuilt laptop or desktop PC.
The 26TB Ultrastar DC HC670 drives use tech called shingled magnetic recording, or SMR, to boost the amount of data that can fit on each platter, at the expense of performance. WD uses SMR technology across its WD Red Pro hard drive lineup, among others, which is targeted at businesses rather than home users. The WD Red Plus drives, introduced after WD was briefly caught using SMR technology in its hard drives without publicizing it, use the more traditional conventional magnetic recording (CMR) instead.
The 22TB drive does use CMR technology, boosting capacity while retaining performance. Current CMR drives mostly top out at 20TB as of this writing. Other 22TB hard drives we've seen from companies like Seagate have had to rely on SMR technology to reach that capacity. This drive will show up in many of Western Digital's product families, including the Ultrastar, WD Purple, WD Red, and WD Gold lineups. All of the new drives are expected to be available sometime this summer.
This post has been read 15 times!