Virtual 3D models of ammonite fossils show their muscles for first time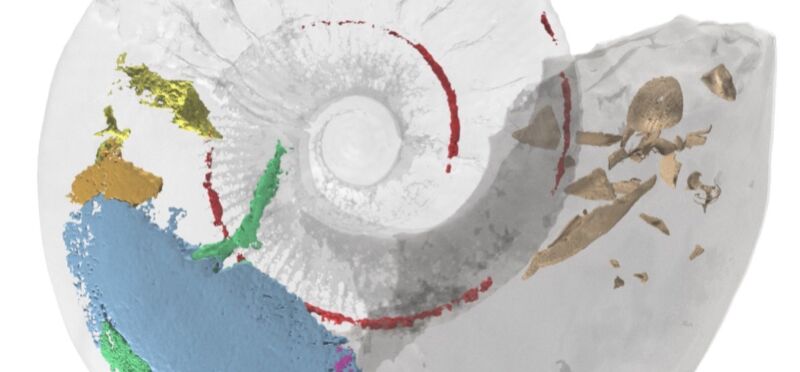 Researchers created a highly detailed 3D model of a 365-million-year-old ammonite fossil from the Jurassic period by combining advanced imaging techniques, revealing internal muscles that have never been previously observed, according to a paper published last month in the journal Geology. Another paper published last month in the journal Papers in Paleontology reported on the creation of 3D virtual models of the armored plates from fossilized skeletons of two new species of ancient worms, dating from 400 million years ago.
The ammonite fossil used in the Geology study was discovered in 1998 at the Claydon Pike pit site in Gloucestershire, England, which mostly comprises poorly cemented sands, sandstone, and limestone. Plenty of fragmented mollusk shells are scattered throughout the site, but this particular specimen was remarkably intact, showing no signs of prolonged exposure via scavenging, shell encrustation, or of being exhumed from elsewhere and redeposited. The fossil is currently housed at the National Museum Wales, Cardiff.
"When I found the fossil, I immediately knew it was something special," said co-author Neville Hollingworth, public engagement manager at the Science and Technology Facilities Council. "The shell split in two and the body of the fossil fell out revealing what looked like soft tissues. It is wonderful to finally know what these are through the use of state-of-the-art imaging techniques."
This post has been read 54 times!