The reviews are in: AMD's mining-averse RX 6500 XT also isn't great at gaming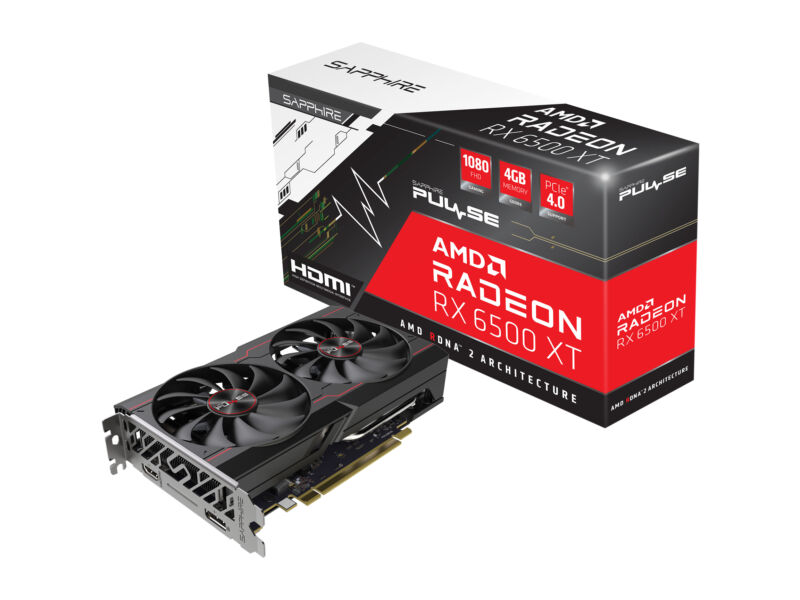 When AMD announced its budget-friendly RX 6500 XT graphics card at CES early this month, the company suggested that the product had been designed with limitations that would make it unappealing to the cryptocurrency miners who have been exacerbating the ongoing GPU shortage for over a year now. But now that reviews of the card have started to hit, it's clear that its gaming performance is the collateral damage of those limitations.
Reviews from Tom's Hardware, PCGamer, TechSpot, Gamers Nexus, and a litany of other PC gaming YouTube channels are unanimous: the RX 6500 XT is frequently outperformed by previous-generation graphics cards, and it comes with other caveats beyond performance that limit its appeal even further. (Ars hasn't been provided with a review unit.)
The core of the problem is a 64-bit memory interface that limits the amount of memory bandwidth the card has to work with. Plus, the card has only 4GB of RAM, which is beginning to be a limiting factor in modern games, especially at resolutions above 1080p. Many tests saw the RX 6500 XT outperformed by the 8GB variant of the RX 5500 XT, which launched at the tail end of 2019 for the same $199 (and you could actually find and buy it for that price).
This post has been read 38 times!