The latest Surface is a $250 laptop that takes a swing at cheap Chromebooks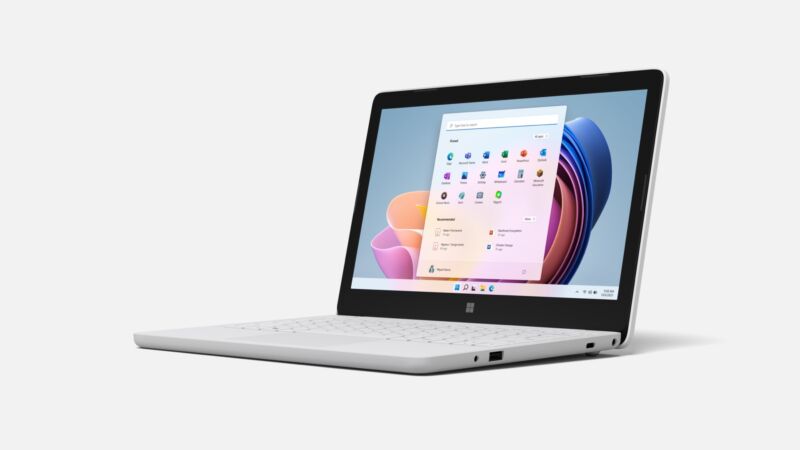 Microsoft's next Surface device is the company's latest and most direct attempt to compete with Chromebooks in schools. The $250 Surface Laptop SE is a low-end, 11.6-inch laptop made for basic browsing, document editing, and remote learning. The Surface Laptop SE runs Windows 11 SE, a cloud-focused version of the operating system that preserves the basic look and feel of Windows 11 but allows school IT admins to control which apps are installed and keeps most files and user settings in the cloud rather than on-device.
The Surface Laptop SE's specifications are uninspiring, and I have my doubts about whether its processor is sufficient for classroom Zooms with dozens of students in them. But the hardware is also about what you'd expect from similarly priced Chromebooks; the machine has a dual-core Intel Celeron N4020 or quad-core Celeron N4120 processor, integrated graphics, 4 or 8 GB of RAM, and 64 or 128 GB of storage. It weighs 2.45 pounds and includes one USB-A port, one USB-C port, a headphone jack, and a proprietary power connector. A netbook-esque 11.6-inch 1366×768 screen, a 720p webcam, 802.11ac Wi-Fi, and Bluetooth 5.0 connectivity round out the key specs. This is all largely consistent with leaks from late last month.
One detail that Microsoft provided more information on was repairability. While recent Surface devices have made use of user-replaceable storage and a few other parts, the Surface Laptop SE is meant to be simple to repair. According to Microsoft, "vital components like the display, battery, keyboard—even the motherboard—can be easily repaired onsite, saving time and money for IT admins and schools."
This post has been read 17 times!