The Galaxy Z Fold 4 is official, brings Android 12L's new taskbar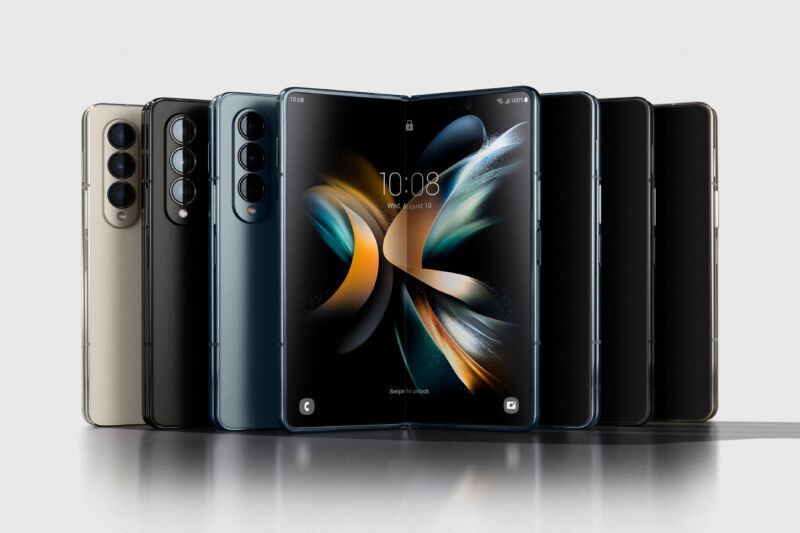 It's time for a new round of Samsung foldables. The Galaxy Z Fold 4 and Galaxy Z Flip 4 are official. Both devices hit stores on August 26, and the prices haven't changed from last year: It's $1,799 for the Fold 4 and $999 for the Flip 4.
The Z Fold 4—the one that opens up like a tablet—is getting a few millimeters wider this year, and it has a 6.2-inch, 120 Hz, 2316×904 outer OLED display. The Z Fold 3's outer display had a skinny 25:9 aspect ratio, but the Fold 4's is at 23.1:9, getting closer to a normal 19:9 aspect ratio. The inner display is wider, too—it's a 7.6-inch, 2176×1812, 120 Hz OLED display. The device's thickness hasn't really changed—when open, the phone is 6.3 mm thick, and it's 15.8 mm thick when folded up, thanks to the hinge gap.
Other specs include a Snapdragon 8+ Gen 1, 12GB of RAM, 256GB of storage, and a 4400 mAh battery with 25 W charging. Samsung puts the dust and water ingress rating at "IPX8," meaning there's no dust resistance, but the device is submergible in fresh water for 30 minutes. There's a side fingerprint reader on the power button, and the phone supports Wi-Fi 6E.
This post has been read 59 times!