Ship that warned Titanic of icebergs has been found at bottom of Irish Sea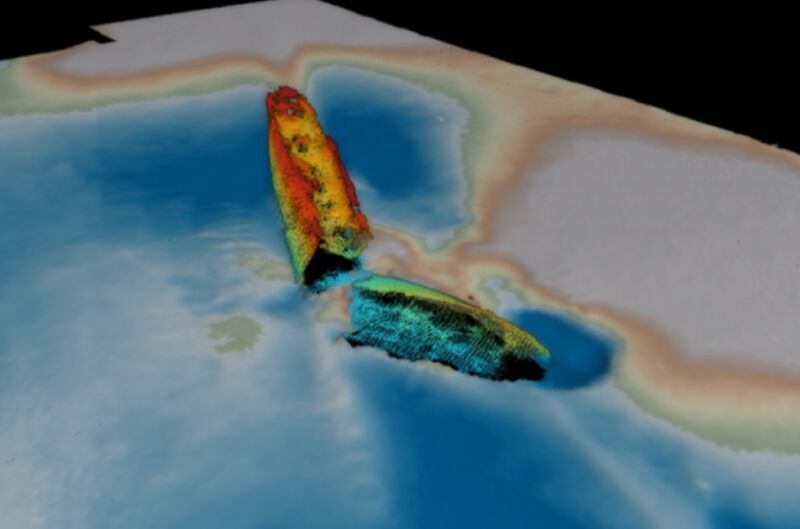 Before the RMS Titanic struck an iceberg and sank to the bottom of the Atlantic Ocean in April 1912, the ship's wireless operators received multiple warning messages of icebergs, growlers, and field ice from six other ships in the region. Now, researchers at Bangor University have identified the wreck of one of those ships in the Irish Sea: the SS Mesaba, which sank in 1918 after being torpedoed by a German submarine. It's one of 273 ships mapped and mostly identified in that 7,500-square-mile region, using a state-of-the-art technique called multibeam sonar.
As we've reported previously, Titanic set out on her maiden voyage to much fanfare on April 10, 1912. Among other amenities, there was a shiny new wireless telegraph system on board, courtesy of the Marconi International Marine Communication Company, capable of transmitting radio signals over a radius of 350 miles (563 kilometers). Although its purpose was mostly to send so-called "marconigrams" for the ship's wealthiest first-class passengers, operators Jack Phillips and Harold Bride also handled any messages from other ships—notably weather reports and ice warnings.
Phillips and Bride had been receiving ice warnings from other ships all day on April 14, beginning at 9 am with reports of "bergs and growlers and field ice" from RMS Caronia. Later that day, RMS Baltic warned that a Greek ship had reported "passing icebergs and large quantities of field ice." Captain Edward Smith acknowledged receipt of both messages and shifted course a bit further south in response, but he didn't reduce the ship's speed.
This post has been read 18 times!