Musk and Netanyahu blame "armies of bots" for spreading antisemitism on X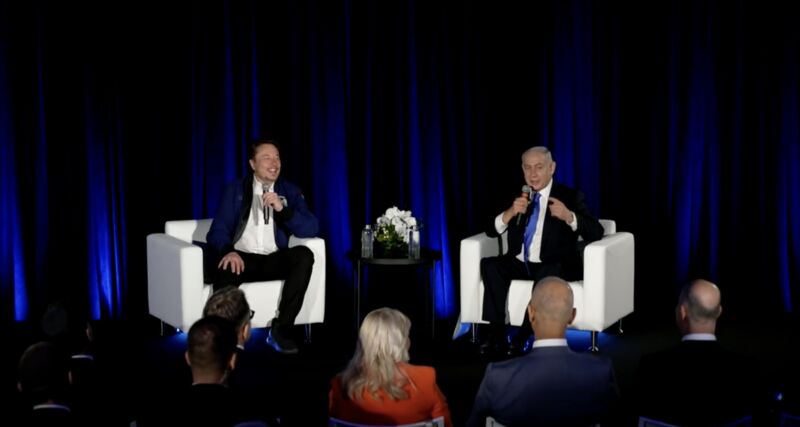 Today, Elon Musk and Israeli Prime Minister Benjamin Netanyahu livestreamed a discussion largely focused on the future of AI on Musk's platform X, formerly known as Twitter.
According to The New York Times, the talk was arranged at Musk's suggestion, and some perceived it as an attempt by Musk to seek "political cover at a time of rising antisemitism on X." In return, for Netanyahu, the talk seemingly provided an opportunity to deflect from mass protests against Netanyahu's attempts to weaken Israel's Supreme Court. Instead he could be seen promoting his dedication to turning Israel into a tech leader—and possibly even signal that Musk may consider investing in the country's tech, the Times reported.
The livestreamed event started with a one-on-one between Musk and Netanyahu that attracted more than 735,000 views. While much of the one-on-one focused on AI—which Musk claimed was "potentially the biggest civilizational threat" and Netanyahu called "a blessing and a curse"—the men also discussed their views on antisemitism and how Musk deals with hate speech on X.
This post has been read 27 times!