Microsoft Edge is getting a performance mode on Windows 10
Microsoft Edge is an incredible desktop browser, packing basically all important features available on the market today. Microsoft is now working on a new feature called "performance mode", designed specifically for performance, especially when you're gaming or using other apps.
In 2020, Microsoft introduced Sleeping Tabs to reduce the amount of RAM and CPU (processing) power used by the browser. This feature alone isn't enough to improve the overall system performance as there are factors affecting Edge's RAM and CPU usage on Windows 10.
As shown in the screenshot below, Microsoft Edge is now adding a new "Performance mode" option to the System settings of the browser. When enabled, Edge will try to optimize overall web browsing speed, responsiveness and reduce CPU, RAM and battery usage without affecting the overall experience.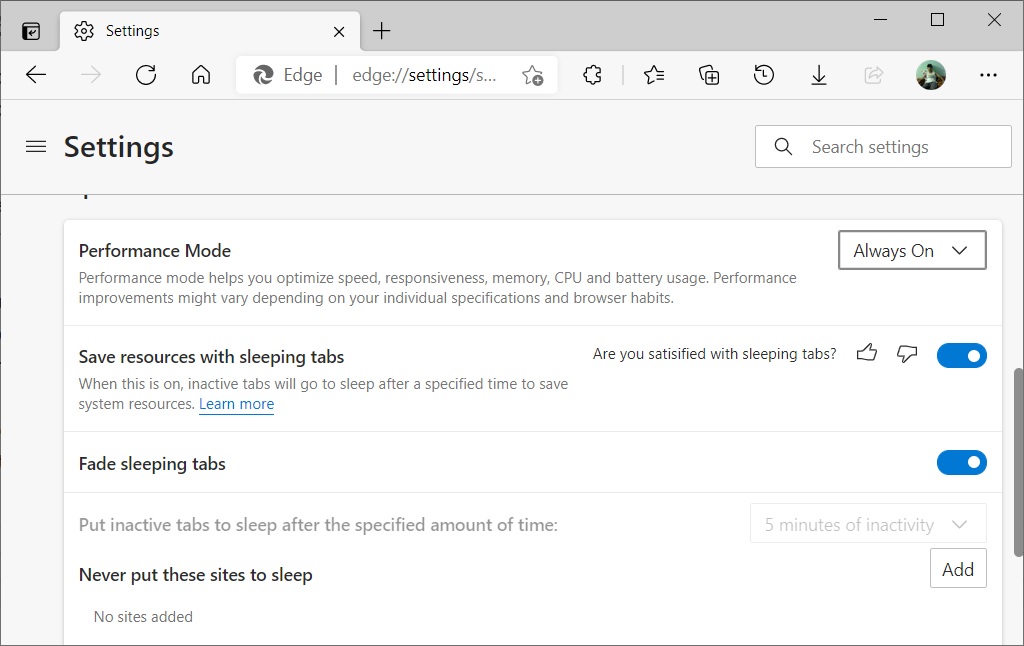 However, Microsoft noted that the performance improvements will vary and the ultimate result depends on users browsing habits.
In our tests, we observed that that "performance mode" forces Sleeping Tabs when tabs are inactive for two minutes.
By default, sleeping tabs are set to go to sleep after two hours of inactivity. When performance mode is enabled, Edge will discard tabs after only two minutes of inactivity and you can still wake up a sleeping tab by simply clicking on it.
Microsoft Edge will also detect heavy resources activity in the background (such as audio or video) and block them from sleeping
It's also worth noting that all sites and features work as before after enabling the performance mode.
In theory, this should cut down memory, CPU and battery usage in most cases. In addition to the sleeping tab, Edge's performance mode will also tweak other browser settings to improve the performance.
The feature is currently available in Microsoft Edge Canary 91 for select users and should make its way into the stable release later this year.
The post Microsoft Edge is getting a performance mode on Windows 10 appeared first on Windows Latest
This post has been read 25 times!