Lucid gives the Air a sporty makeover, launches new Sapphire sub-brand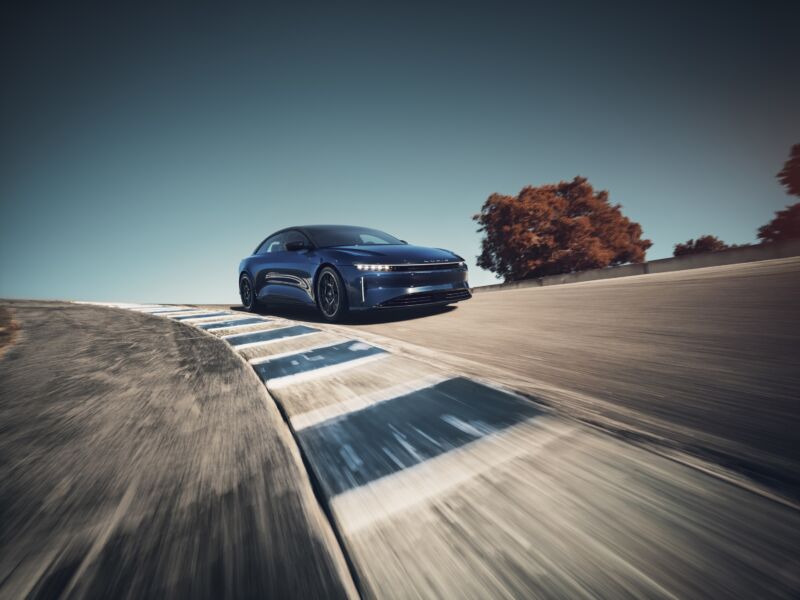 On Friday at Monterey Car Week, the electric vehicle startup Lucid added a new variant to its portfolio: the Lucid Air Sapphire. It's the first of a new sub-brand for Lucid, adding even more performance to cars that were hardly underpowered to begin with. With an extra motor in the mix, the company's new car should hit 60 mph (98 km/h) in less than two seconds and 100 mph (160 km/h) in less than four seconds while keeping a top speed in excess of 200 mph (321 km/h). Such performance isn't cheap, however; when the car goes into limited production next year, it will do so with a $249,000 price tag.
The inspiration for both the car's color and its name came from American racing history.
"Sapphire is the embodiment of what ultra-high-performance luxury means to Lucid. [It] is among the most valued gemstones, prized for their brilliance, color, and hardness," said Derek Jenkins, SVP of brand and design at Lucid. "Imperial Blue has long been the de facto national color for American motorsports teams engaged in international competitions. As Lucid's dedicated ultra-high-performance brand, Sapphire references this history while setting new standards for innovation and technology."
This post has been read 17 times!