Intel leans on more E-cores for performance boosts in leaked 13th-gen CPU lineup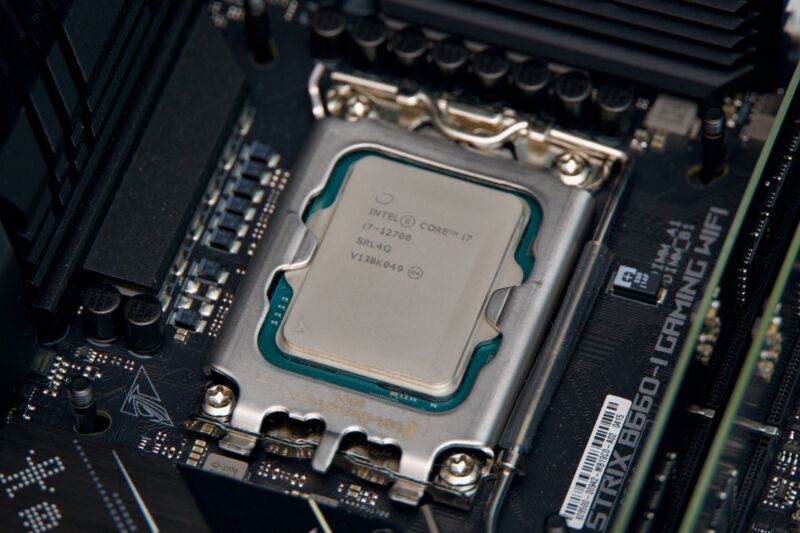 Our understanding of Intel's 13th-generation Core CPUs, codenamed "Raptor Lake," continues to take shape ahead of their planned launch this fall. Motherboards for current-gen Alder Lake chips have been adding preliminary support for them, and now a supposed list of the desktop CPU lineup (as reported by Tom's Hardware) suggests that Intel will be leaning on its CPUs' small efficiency cores (E-cores) for much of their performance gains.
Based on Intel's disclosures, we know that Raptor Lake CPUs will use the same CPU and GPU architectures and Intel 7 manufacturing process as Alder Lake. Its large performance cores (P-cores) will be based on an architecture called "Raptor Cove," though technical documents don't distinguish between it and Alder Lake's "Golden Cove" cores. And the E-cores will be based on the same Atom-derived Gracemont architecture that Alder Lake uses. The big cores handle the heavy lifting and provide the best performance for games and other apps that benefit from good single-core performance, while the E-cores pitch in for lower-priority and background tasks plus workloads like CPU-based video encoding and rendering jobs that can engage all of your processor's cores at once. It's tough to make exact performance comparisons, but AnandTech's benchmarks of E-cores in isolation suggest that they are about as fast as a midrange 6th-gen Skylake CPU core most of the time.
Intel has also confirmed that some Raptor Lake chips will include up to 24 physical cores, spread out across eight P-cores and 16 E-cores. Alder Lake CPUs max out at eight E-cores, for a total of 16 physical cores.
This post has been read 17 times!