How I saved money on HomeKit smartbulbs with Philips Wiz and a Raspberry Pi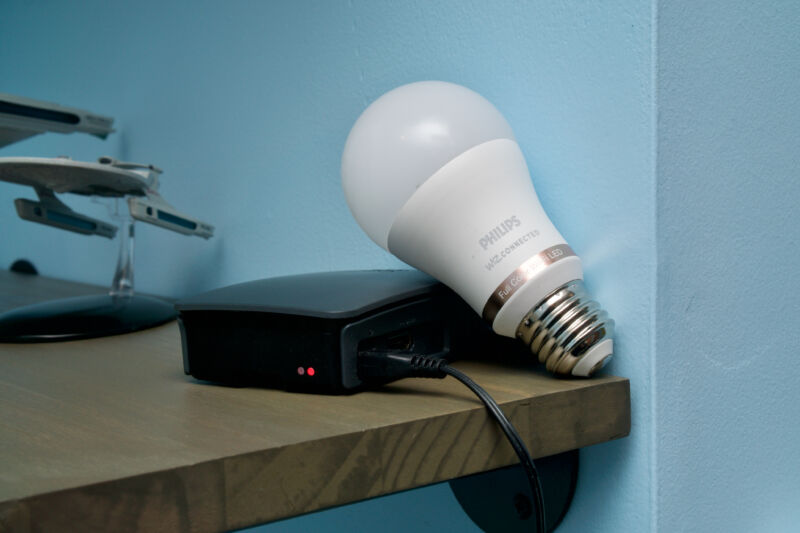 The house where my family currently lives is lit primarily by a bunch of ceiling-mounted recessed bulbs. From top to bottom, counting bathroom fixtures, we have something like 40 lightbulbs in the entire house. And when we moved in, every single one of those lightbulbs was a hot, power-sucking incandescent bulb. Replacing those bulbs with cooler, more-efficient LEDs was one of the low-hanging home improvement projects I took on after we moved in.
As part of that project, I lit a couple of rooms with Philips Hue smartbulbs, which did a ton to popularize and simplify customizable LED lighting when they first came out back in 2012. These bulbs plus an Ecobee thermostat formed the foundation of a HomeKit setup, chosen because my wife and I are both iPhone users and we didn't own an Echo or any Google or Nest products at the time. Since then, our smart home has grown in fits and starts, accruing different gadgets here and there and aiming for HomeKit compatibility when we can get it. (I assume lots of smart home setups are like this—stumbled into over time, made up of a patchwork of products that either came with the house or were all bought individually to fill some specific need, all strapped together after the fact by Google, Amazon, or Apple, depending on which of the tech giants has you captured most firmly in its tendrils at the time.)
Fast-forward five years, and I was ready to add smart lighting to more rooms in the house. However, I didn't want to pay Hue prices, especially for the multicolor bulbs—a 60W equivalent white Hue bulb normally runs about $15, and a full-color bulb costs between $30 and $50 a pop. A company called meross makes an appealing HomeKit-compatible multicolor bulb for around $15, but middling customer reviews (and a dearth of professional reviews) made me hesitate.
This post has been read 17 times!