High-speed video captures how cannibalistic mosquito larvae snag their prey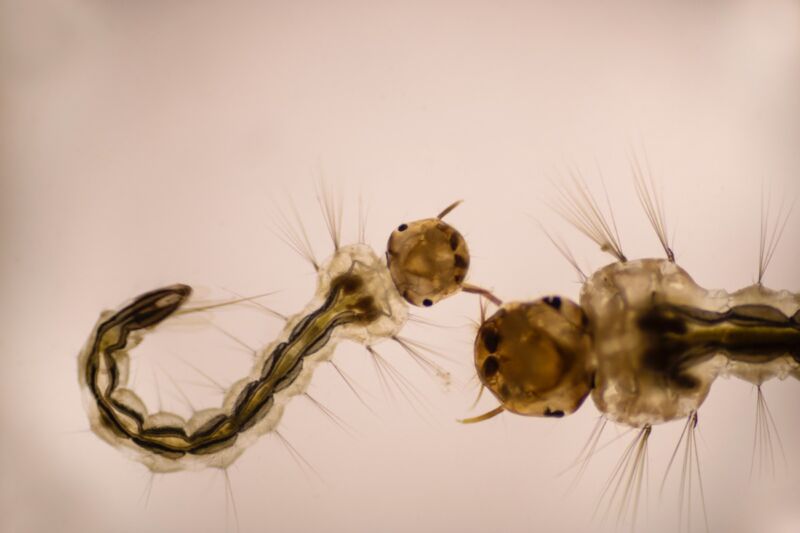 Mosquitos are the bane of many people's existence, especially since their bites aren't just annoyingly itchy; they can also spread potentially deadly parasitic diseases. Even the larvae of certain species can be formidable. While most mosquito larvae feed on algae or bacteria and similar microorganisms, some predatory species feed on other insects—including the larvae of other mosquitos. A team of scientists has captured the unique attack methods of these cannibalistic predators on high-speed video, revealing how they capture their prey with lightning-fast strikes, according to a recent study published in the journal Annals of the Entomological Society of America.
Co-author Robert Hancock, a biologist at the Metropolitan State University of Denver, became fascinated by predatory mosquito larvae when he first watched them strike their prey under a microscope during an undergraduate entomology class in college. He was impressed by the sheer speed of the attacks: "The only thing we saw was a blur of action," he recalled. Scientists have long studied these larvae because they are so efficient at controlling the populations of other mosquito species. Just one predatory larva can devour as many as 5,000 prey larvae before reaching adulthood.
Hancock first attempted to capture the striking behavior of the larvae on 16-millimeter film by jerry-rigging a setup with a microscope and camera back in the 1990s—a process he said resulted in a lot of wasted film, given the blistering speed of the strikes. Now as a college professor, he was able to exploit all the advances in video and microscope technology that have been made since his undergraduate years to learn more about the biomechanics involved.
This post has been read 19 times!