Grand Canyon's explosive gastroenteritis was a 3-month, multisource outbreak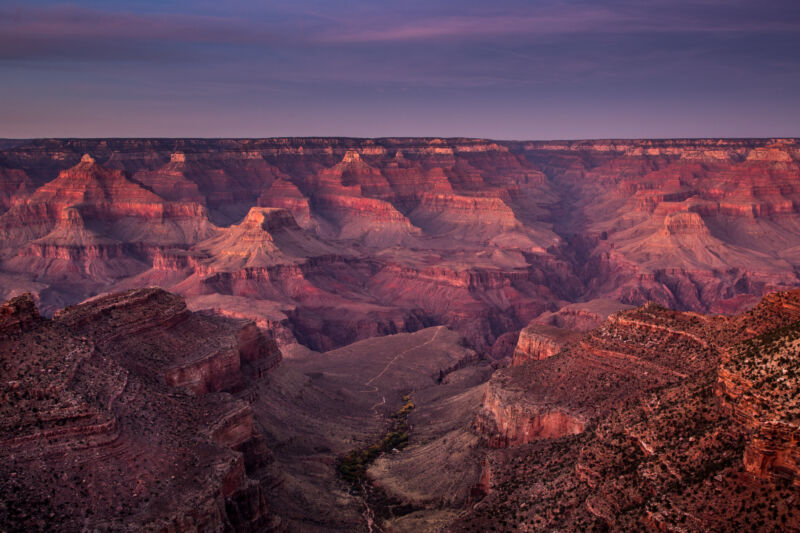 The explosive outbreak of gastroenteritis that erupted in the Grand Canyon earlier this year was likely sparked by multiple people hauling in norovirus infections, according to a recent study published by the Centers for Disease Control and Prevention in its Morbidity and Mortality Weekly Report. The infectious blast ended up violently hollowing out of at least 222 visitors to the geologic marvel over a brisk, but brutal three-month period
As Ars readers may recall, the National Park Service issued warnings early in the summer that an outbreak was gutting river rafters and hikers. But the new study, led by local and CDC officials, offers a more detailed look at the outbreak that left outdoor adventurers grasping the rims of basins much smaller than that of the Colorado River.
The trouble appears to have begun in early April, with the first identified case striking a backpacker on April 4. On April 8, a commercial rafting company notified the National Park's Office of Public Health (OPH) that seven people on a rafting trip fell ill with vomiting and/or diarrhea. The cases kept streaming in through April and erupted in early May. The OPH contacted the CDC on May 11, after collecting dozens of case reports. By May 21, the OPH received reports of an additional 102 cases from 13 river rafting groups and several backpackers.
This post has been read 19 times!