GaN-powered Thunderbolt 4 dock wants to rid data-hungry setups of power bricks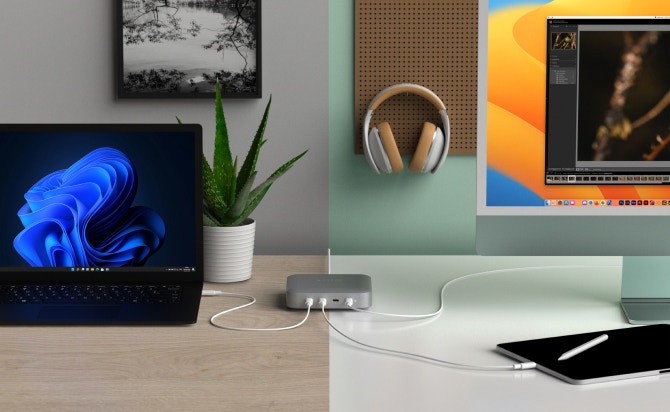 For power users juggling a high-resolution monitor or two, large data transfers, multiple PC accessories that need power, and, perhaps, 10 Gigabit Ethernet, a Thunderbolt dock can add helpful high-speed ports while powering a supporting PC, like a MacBook. This helps streamline an office setup but also typically comes with a clunky power brick to add to the mix. Hyper's gallium nitride (GaN)-powered HyperDrive Thunderbolt 4 Hub, which started crowdfunding on Monday, is hoping to change that.
Hyper, a 7-year-old maker of PC hubs, docks, portable chargers, and the like, is seeking to crowdfund a Thunderbolt 4 hub that it claims is the first "Thunderbolt 4 hub with an integrated GaN power source." The dock is a small, rounded-edge square offering one Thunderbolt 4 upstream port and three Thunderbolt4 downstream ports with up 40Gbps operation and accompanied by zero clunky power bricks.
However, Hyper isn't ready to release its dock yet; it's currently undergoing a Kickstarter campaign.
This post has been read 9 times!