Ford EVs will get access to Tesla's Supercharger network in 2024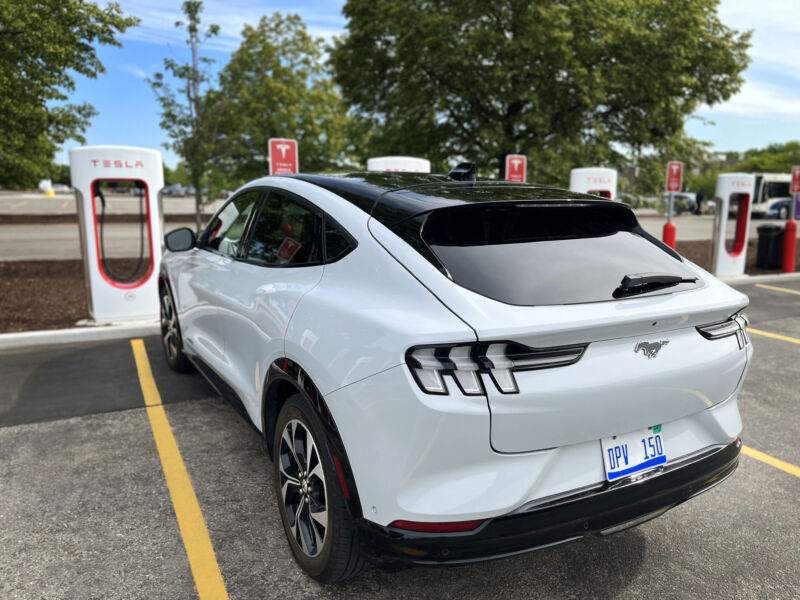 Ford's CEO Jim Farley took to a Twitter Space on Thursday afternoon with some pretty big news. Ford and Tesla have agreed to give Ford EVs access to Tesla's Supercharger network. Current Ford EVs will require an adapter to connect what Tesla has called the "North American Charging Standard" (NACS) cable to its Combined Charging System (CCS) ports. But Ford's next series of EVs will feature native NACS ports, removing the need for an adapter.
"This is great news for our customers who will have unprecedented access to the largest network of fast-chargers in the US and Canada with 12,000-plus Tesla Superchargers plus 10,000-plus fast-chargers already in the BlueOval Charge Network," Farley said. "Widespread access to fast-charging is absolutely vital to our growth as an EV brand, and this breakthrough agreement comes as we are ramping up production of our popular Mustang Mach-E and F-150 Lightning, and preparing to launch a series of next-generation EVs starting in 2025."
Many words have been written these past few years about the poor state of the US's DC fast-charging infrastructure. EV drivers of all stripes have horror stories about inscrutable charger errors, out-of-order stations, and hours-long delays to road trips… except Tesla drivers, who have access to an expansive DC fast-charging network that seems to just work.
This post has been read 13 times!