'Crypto' Means Cryptocurrency. We Lost the War, and It's OK
The iconic Staples Center, home to the Los Angeles Lakers and their cousin the Clippers, will soon be known as the Crypto.com Arena in a deal reportedly worth $700 million.
Four years ago, I wrote a passionate hot take, arguing that the word "crypto" should not be used to refer to "cryptocurrency," but to refer to "cryptography," as it's been the case in computer science and cybersecurity for more than 20 years.
The Merriam-Webster dictionary is not relenting yet. But for the rest of us, it's time to raise a white flag and admit we lost this war. Perhaps, I would even go as far as saying this war was not worth fighting. As Metallica sang many years ago: "For a hill, men would kill, why? They do not know."
"Crypto" is now widely used to refer to cryptocurrency in news media, as well as within the cryptocurrency, blockchain, and decentralized finance—or DeFi—industry. Most importantly, everyday, non techie people also use and understand "crypto" to mean cryptocurrency. Even this very website, which published my defense of crypto meaning cryptography, has started to use the term to refer to cryptocurrency.
And it's OK.
I come from a culture where language is prescriptive. I grew up in Spain, where there is an official government-run body, the Real Academia Española, whose sole mission is to preserve the correct use of the Spanish language. As part of its mission, the academy establishes and sanctions the supposedly correct meaning of words.
I now see that as the wrong approach. Languages are living things shaped by the people who use them. This approach, antithetical to the "prescriptivism" discussed earlier, is known as "descriptivism."
This is the school of thought that accepts the fact that people now use "crypto" to mean "cryptocurrency." This is now the widespread, common use of the word, and, again, that's OK.
Not everyone is giving up though. Amie Stepanovich, the executive director of the University of Colorado's Silicon Flatirons center, made t-shirts that say "Crypto. It Means Cryptography."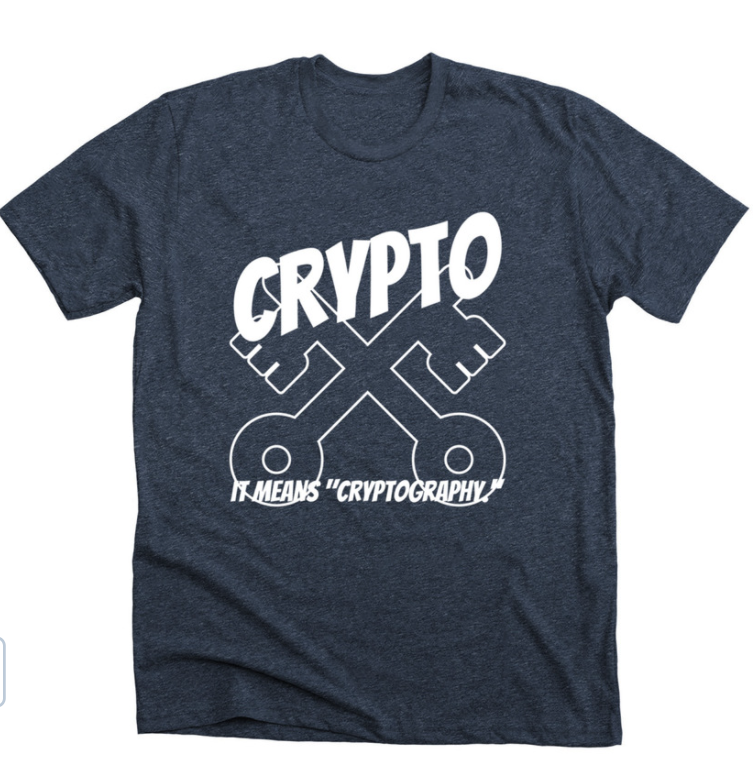 "I still don't think I'll ever concede that 'crypto' should be used as shorthand for anything but cryptography or its close relatives. In fact, in the term 'cryptocurrency,' its use as a prefix indicates exactly that," Stepanovich told Motherboard in an online chat. "Using it instead as a shorthand for a word it's a prefix for creates unnecessary ambiguity in language at a time when there are still major global fights about the use of cryptography unencumbered. I, for one, don't plan to ever use crypto as a short for blockchain-based currency and won't recognize it's use by others."
Stepanovich's shirt is still very popular among cybersecurity experts, as this thread of people posing with it shows. Ironically, one of the people posing with a "Crypto. It Means Cryptography" hoodie is none other than computer science veteran Matt Blaze, the former owner of the very Crypto.com URL that took over the Staples Center.
For 25 years, until 2018, Crypto.com was Blaze's personal website. After receiving a series of surely copious and tempting offers, Blaze decided to sell it to a company that has the mission to "accelerate the world's transition to cryptocurrency."
"I don't think conflating cryptography and digital currency will serve either field well in the long run, particularly as to how they're perceived by the public and policymakers," Blaze wrote at the time. (Blaze declined to comment for this piece and pointed to his 2018 blog post.) "Still, there's no doubt that, at this moment in time, the two have become hopelessly intermixed, at least in the minds of the digital money people. That doesn't mean this won't end badly, but it's unarguably where we are right now."
The jury is still out on whether this will end badly, but what's clear is that for most people, "crypto" means cryptocurrency these days.
Subscribe to our cybersecurity podcast, CYBER. Subscribe to our new Twitch channel.
This post has been read 17 times!