Cracking Charles V's secret code reveals suspected assassination attempt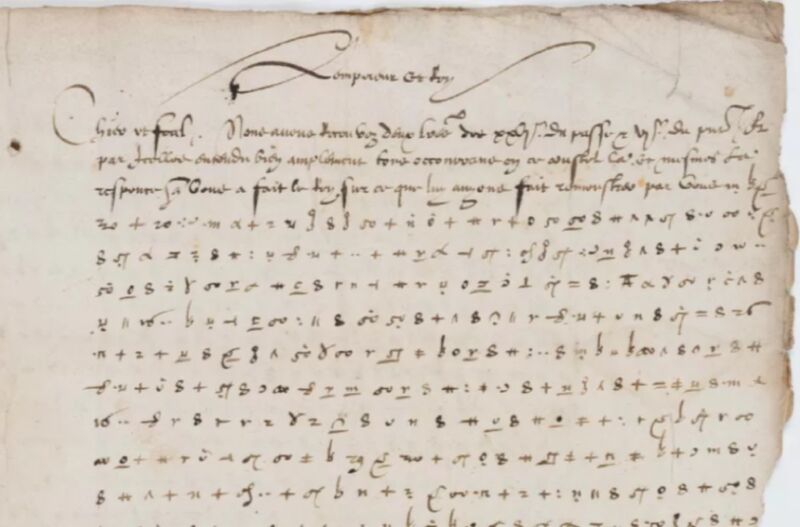 In 1547, Holy Roman Emperor Charles V penned a letter to his ambassador, Jean de Saint-Mauris, part of which was written in the ruler's secret code. Nearly five centuries later, researchers have finally cracked that code, revealing Charles V's fear of a secret assassination plot and continued tensions with France, despite having signed a peace treaty with the French king a few years earlier.
The future Holy Roman Emperor was born in 1500 to Philip of Hapsburg and Joanna of Trastamara—daughter of Ferdinand II of Aragon and Isabella I of Castile in Spain. She was nicknamed "Joanna the Mad" because of her rumored mental illness and actually gave birth to Charles in a bathroom in the wee hours because she insisted on attending a ball despite clearly having labor pains. Generations of inbreeding conferred on Charles an enlarged jaw (mandibular prognathism), a condition that later became known as "Hapsburg jaw," since it became even worse in subsequent generations. Charles also suffered from epilepsy and gout; the latter became so severe late in life that he had to be carried around in a sedan chair.
Charles V began inheriting various family titles at a young age, and his dominion eventually encompassed the Holy Roman Empire—which extended from Germany to northern Italy in the early 16th century and included Austrian hereditary lands, the Burgundian states, and the Kingdom of Spain. During his reign, he continued the Spanish colonization of the Americas as well as embarking on a short-lived German colonization effort, earning the label "the empire on which the sun never sets." As his health deteriorated, Charles V abdicated as emperor in favor of his brother Ferdinand in 1556, although it was not legally recognized until February 1558. He retired to the Monastery of Yuste in 1557 and died the following September.
This post has been read 24 times!