Ancient Roman "wow glass" has photonic crystal patina forged over centuries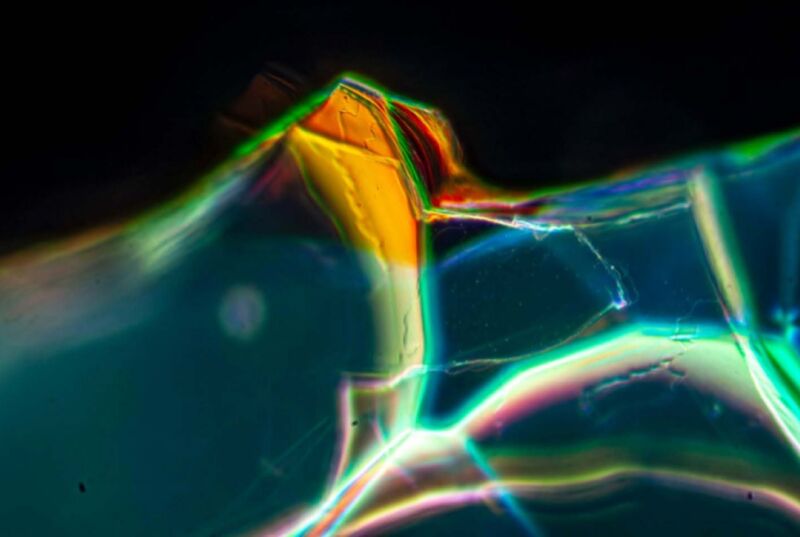 Nature is the ultimate nanofabricator. The latest evidence of that is an unusual shard of ancient Roman glass (dubbed the "wow glass") that boasts a thin, golden-hued patina. Roman glass shards are noteworthy for their iridescent hues of blue, green, and orange—the result of the corrosion process slowly restructuring the glass to form photonic crystals—and this particular shard's shimmering mirror-like gold sheen is a rare example with unusual optical properties, according to a new paper published in the Proceedings of the National Academy of Sciences.
It's yet another example of naturally occurring structural coloration. As previously reported, the bright iridescent colors in butterfly wings, soap bubbles, opals, or beetle shells don't come from any pigment molecules but from how they are structured—naturally occurring photonic crystals. In nature, scales of chitin (a polysaccharide common to insects), for example, are arranged like roof tiles. Essentially, they form a diffraction grating, except photonic crystals only produce specific colors, or wavelengths, of light, while a diffraction grating will produce the entire spectrum, much like a prism.
Also known as photonic band-gap materials, photonic crystals are "tunable," which means they are precisely ordered to block certain wavelengths of light while letting others through. Alter the structure by changing the size of the tiles, and the crystals become sensitive to a different wavelength. They are used in optical communications as waveguides and switches, as well as in filters, lasers, mirrors, and various anti-reflection stealth devices.
This post has been read 28 times!