Analysis: GameStop NFT trading slows in marketplace's first week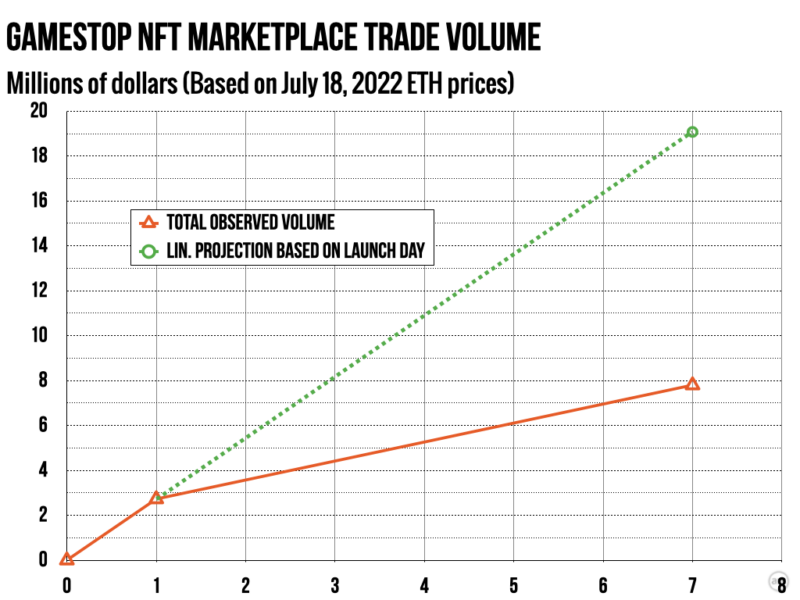 Last week, when Ars analyzed the first day of NFT sales on GameStop's heavily hyped crypto marketplace, some boosters were quick to suggest that this was just a starting point and that interest and trading volume might increase as time goes on and more people discover the trading platform. Over the marketplace's first week, though, interest in trading GameStop NFTs seems to be declining when compared to that launch day performance.
An Ars-exclusive analysis of the GameStop NFT marketplace now shows that it has been responsible for about 5,254 ETH in total trading volume in its first week (worth about $7.8 million at current exchange rates). That's a daily average of about 750 ETH ($1.117 million) in total trade volume. GameStop takes a 2.25 percent fee for all those trades, representing a daily average of 16.9 ETH ($25,113) in direct revenue to the company. All told, six of the over 300 collections on the platform are responsible for a majority of that trading volume.
(Note: Ever-volatile ETH prices have increased about 38 percent since last Tuesday, when Ars did its launch day analysis of the marketplace. Unless otherwise noted, we're using the current ETH spot price—$1,488.06 as of this writing—for conversions here, even though transactions earlier in the week likely took place at lower dollar/ETH rates.)
This post has been read 17 times!