Amazon Is Refusing to Comply with a Federal Judge's Order, Emails Show
Amazon is refusing to fully comply with a requirement to tell its employees that it was ordered by a federal judge to stop retaliating against unionizing employees, according to a motion filed by the National Labor Relations Board. 
The federal cease-and-desist order required that Amazon stop "discharging employees because they engaged in protected concerted activity" and "interfering with, restraining, or coercing employees."
It also mandated that Amazon post the order "where [Amazon] customarily posts notices to its employees" in the Staten Island JFK8 warehouse, where the Amazon Labor Union won its first election—and that management hold a mandatory-attendance public reading of the full court order "scheduled to ensure the widest possible employee attendance." 
However, emails contained within the new NLRB motion filed Tuesday show that Amazon's legal team has repeatedly refused to abide by those requirements.
One email exchange between an Amazon lawyer and an NLRB representative shows that the NLRB asked the company to post the order as a "table topper" as well as an "inSTALLment"—that is, to post it inside bathroom stalls. The emails were submitted to the court as part of a filing by the NLRB designed to force Amazon to fully comply with the earlier order.
"These are locations where Amazon regularly posts and distributes notices, including work-related announcements and information and materials expressing Amazon's opposition to unionization," the NLRB official writes in their email to the Amazon lawyer. They demand that Amazon post it there "because that is a method of dissemination that Amazon regularly, customarily uses to reach its employees," as required by the order. 
The Amazon lawyer refused. "Amazon does not post legal notices in table toppers or InSTALLments; the Memorandum and Order are posted where legal notices are posted…it will simply impose an unmanageable compliance and logistics burden."
In the emails, Amazon's lawyer repeatedly notes that the company is "not inclined to reconsider its position" on where it will post the notices. 
A photo included in the Exhibits of the NLRB filing shows a bulletin board, somewhat obstructed by a microwave and an arcade game, where management has posted various legal notices, including various New York City labor policies and the company's leadership principles. One stapled copy of the court order appears to be pinned to the bulletin board, though the quality of the photo makes it difficult to tell which document is posted.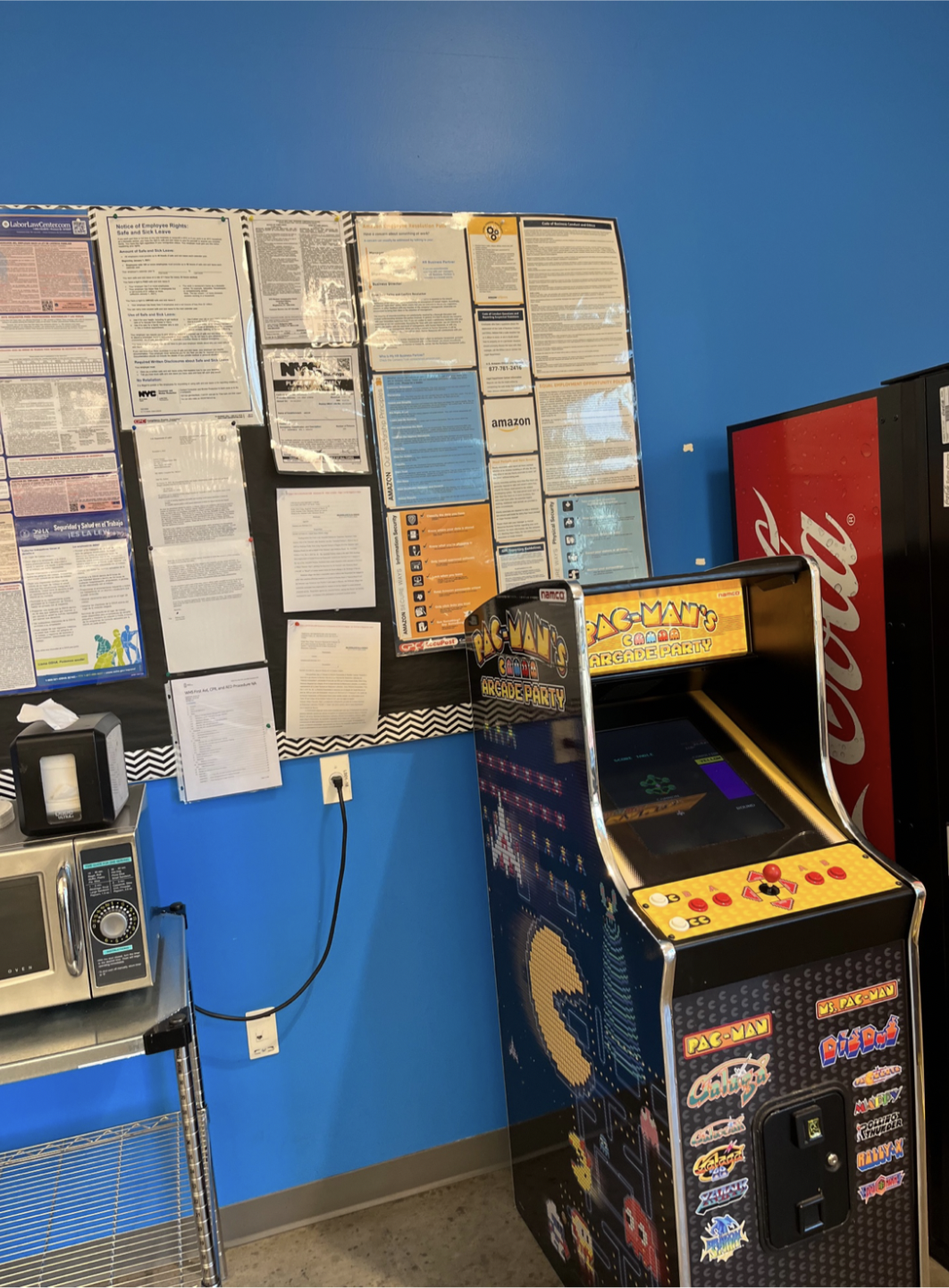 "I think it shows that Amazon is not complying with what the judge told them to do," said Seth Goldstein, a lawyer for the Amazon Labor Union. "This is Amazon trying to get out of what they have to do." 
The NLRB official, in their emails, also demanded that Amazon schedule the public reading of the order to some time mid-shift, to ensure that the most employees possible would be there to attend. Currently, the meetings are scheduled 45 minutes into the beginning of each given shift. 
Amazon often hosts mandatory "all-hands" meetings mid-shift to ensure maximum attendance, according to testimony from Derrick Palmer, a long-time JFK8 worker and vice-president of the Amazon Labor Union. 
"Amazon's proposed readings are scheduled to occur during the 'shift swap' periods in the warehouse, when thousands of workers are arriving and leaving the massive JFK8 facility," Palmer's testimony reads. "There is always chaotic foot traffic in the warehouse during shift swaps." He says that it would be difficult for workers to get to a meeting at the beginning of a shift for that reason.
The Amazon lawyer again said the company was "not inclined" to change the time, and that every employee would have a chance to attend a meeting. 
The NLRB official also demanded that Amazon have a live reading of the court order, instead of a pre-recorded one—which the Amazon lawyer again denied. 
"Amazon plans to play an audio or audio/video recording of the Memorandum and Order at each meeting because it is unreasonable to have an individual read a 30 page document 6 times on 2 days and 2 times on a third day," they wrote. "Amazon expects some level of disruption by attendees. Rather than subject a live reader to a 'heckler's veto' (or worse), Amazon can continue to play a recording without potential interruption."
The NLRB filing alleges that Amazon's actions "make a mockery" of the judge's order, and that they are "propped up by flimsy, transparently false justifications."
An Amazon spokesperson did not respond to a request for comment. 
The first of its public readings of the notice is scheduled to be today.
This post has been read 22 times!