AI wins state fair art contest, annoys humans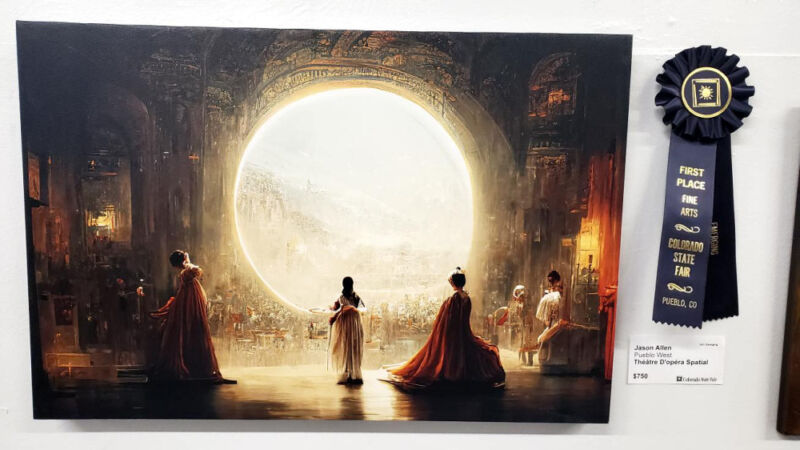 A synthetic media artist named Jason Allen entered AI-generated artwork into the Colorado State Fair fine arts competition and announced last week that he won first place in the Digital Arts/Digitally Manipulated Photography category, Vice reported Wednesday based on a viral tweet.
Allen used Midjourney—a commercial image synthesis model available through a Discord server—to create a series of three images. He then upscaled them, printed them on canvas, and submitted them to the competition in early August. To his delight, one of the images (titled Théåtre D'opéra Spatial) captured the top prize, and he posted about his victory on the Midjourney Discord server on Friday.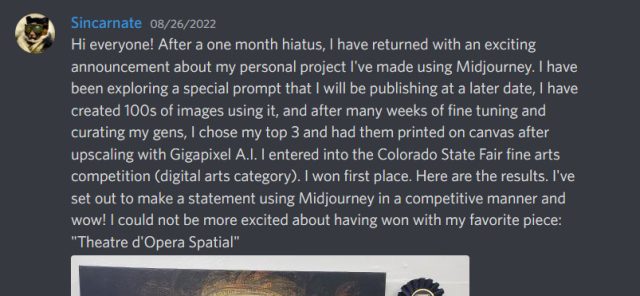 Allen's victory prompted lively discussions on Twitter, Reddit, and the Midjourney Discord server about the nature of art and what it means to be an artist. Some commenters think human artistry is doomed thanks to AI and that all artists are destined to be replaced by machines. Others think art will evolve and adapt with new technologies that come along, citing synthesizers in music. It's a hot debate that Wired covered in July.
This post has been read 17 times!